Birth Date

March 12, 1999

Birth Name

Jessica Paige Eisenberg

Age

24

Also Known As

Jessie Paege

Height

5' 11"

Birth Place

New Jersey, USA

Birth Sign

Pisces

Nationality

American

Profession

YouTuber

Net Worth

$3 Million

Relationship Status

Not Confirmed

Eye Color

Green

Hair Color

Black

Twitter

https://twitter.com/jessiepaege

Instagram

https://www.instagram.com/jessiepaege/
Jessie Paege is an American YouTuber and content creator who started her career at the age of fourteen as a means to fight her bullies and social anxiety. She is openly bisexual and usually makes videos on mental health, the LGBTQIA+ community, and her love for music.
The media person had suffered a lot in her teenage years with constant bullies at school and used YouTube as a way to minimize her social anxiety. She also uses her other social media profiles as a way to spread awareness about some serious social issues.
Let's discuss more about Jessie's rise to fame, family, career, net worth, and love life in this article.
Jessie Paege Had A Rough Childhood
The social media star was born on March 12, 1999, in New Jersey, to American parents. However, she has not yet revealed the specific details of her mom and dad. Her birth name is Jessica Paege Eisenberg, but she legally changed it to Jessie Paege in 2021.
The famous YouTuber constantly criticizes her parents for being fake and using her to look good on the internet. She has a deteriorated relationship with her mother, who was glad she came out to her as bisexual on a YouTube video. But, later Paege tweeted her mom is an alcoholic and a narcissist.
Likewise, Jessie Paege's father had been absent in her childhood and didn't consider her well-being.
It's a very tragic thing when your parents put you through a challenging phase like that, but Jessie at least has a good relationship with her brother, Matt Eisenberg. He appeared in a YouTube video on Paege's channel in 2016 but doesn't like being around the camera too much. Moreover, the siblings have a good relationship with each other and the YouTuber often showcases her concerns about whether her parents would treat Matt well.
Jessie had a very tough childhood growing up as she constantly had to face the bullies at school, which is the reason for her social anxiety disorder. She was a shy girl in high school and had a severe social anxiety disorder which meant she could not handle herself well in social gatherings.
The social media star started YouTube when she was only 14 after she attended a 'Meet and Greet" of another famous YouTuber, Bethany Mota. She became a fan of Mota for how she handled herself in videos and vlogs. Moreover, Bethany is also a shy person, and Paege gravitated toward how YouTube helped her come out of her comfort zone.
Paege came out as a bisexual in July 2018 in a YouTube video. She also made a music video titled 'Coming Out' on March 14, 2020, where she again criticized her parents, especially her father.

Moreover, Jessie makes videos of her day-to-day life, giving messages to her fans about how to be proud of herself. Many fans commented on how the young content creator has inspired them to be open to her identity.
Also Read: More About Troye Sivan
Jessie Paege, Net Worth- $3 Million
The social media personality has not just gained fame from her YouTube; she has also garnered a significant amount of fortune. According to Celebrity Net Worth, Jessie Paege's net worth is estimated to be $3 million. Her income mainly comprises her earnings from her YouTube channel, videos, and vlogs.
The New Jersey native has been on YouTube for almost ten years now, so we can assume that she has amassed a notable amount from her channel. Moreover, she has a whopping 1.49 million subscribers and has a total view of over 107 million. As per Social Blade, Jessie's estimated YouTube earnings is $73 – $1.2K monthly and $877 – $14K yearly.
Paege also makes music videos on her YouTube channel, primarily based on coming out and embracing her sexuality. Not just that, she has performed live shows in twenty-four cities with fellow YouTubers Niki and Gabi, Alyson Stoner, and Alisha Marie in August of 2016.
The social media personality has also authored two books whose prices are as below:
| | | |
| --- | --- | --- |
| Book | Price | Release Year |
| Think Beyond Pink | $12.99 (Paperback) | March 20, 2018 |
| Hey, It's Okay To Be You | $11.20 (Paperback) | November 7, 2017 |
Table Source: Amazon
The black-haired beauty also uses TikTok and Instagram where she has many followers and promotes her brands. She has endorsed brands like Chevrolet, Wendy's, HP, Trolli USA, among others. That has subsequently added more to Jessie's fortune.
Furthermore, Paege has also acted in the TV show Guilty Party, where she played a character called Charlie, in 2017. She featured in seventeen episodes. Aside from that, she has starred in Fictional Character, Deadcon, Guidance, etc.
So, looking at her earnings, it's perfectly reasonable that Jessie Paege's net worth is $3 million.
Nyla Rose is another LGBTQ personality.
Is Jessie Paege Dating Anyone?
Well, many fans are curious to know if Jessie is dating anyone at the moment. However, she has not uploaded any pictures with her beloved as she used to in the past. She confirmed she lives alone as she has already moved out of her parents' place.
The information on Jessie Paege's boyfriend or girlfriend is scarce right now, but she might be keeping it a secret given the history of homophobic slurs she has had to endure.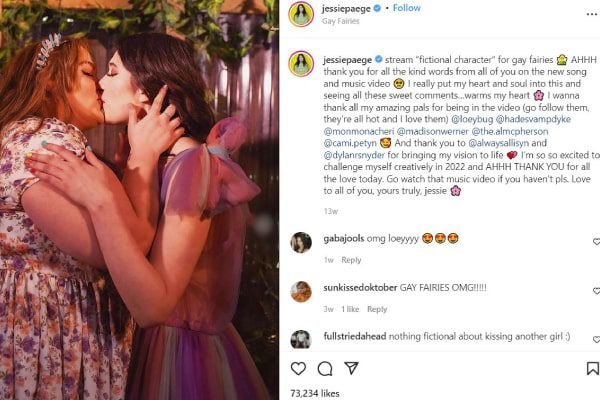 Talking about Paege's past affairs, she previously dated Dayne Dyer. But the ex-pair announced the news of their separation on February 5, 2018.
The YouTuber then began dating Dani Klekot in 2019. She was pretty public with her new partner and often uploaded videos of them having fun together on YouTube. Unfortunately, the ex-couple broke up just a year later.
So, is Jessie dating anyone now? Sadly, the question remains unanswered.
Nonetheless, Jessie has been living a happy and comfortable life. She has also said she is pleased to have made a name for herself without the help of her parents. So, let's hope she can still create excellent content and live a peaceful life without any negativity.