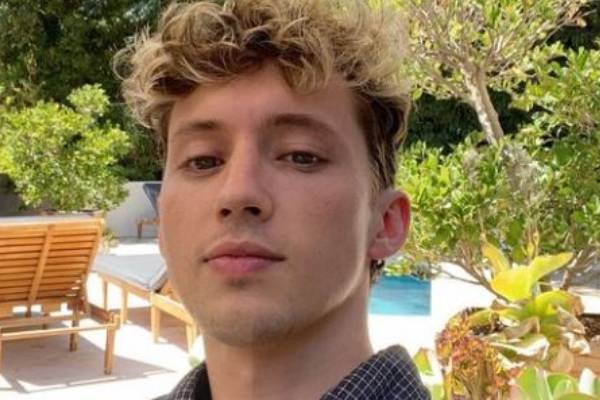 Birth Date

June 5, 1995

Birth Name

Troye Sivan Mellet

Age

28

Height

5' 6"

Weight

130 lbs

Father's Name

Shaun Mellet

Mother's Name

Laurelle Mellet

Birth Place

Johannesburg, South Africa

Birth Sign

Gemini

Nationality

Australian, South African

Profession

Singer, Songwriter, Actor, YouTuber

Net Worth

$8 Million

Relationship Status

Not Confirmed

Eye Color

Sky Blue

Hair Color

Brown

Official Website

https://www.troyesivan.com/

Facebook

https://www.facebook.com/troyesivan

Instagram

https://www.instagram.com/troyesivan/
Last updated on April 12th, 2022 at 12:01 pm
Troye Sivan is a well-known singer-songwriter and YouTuber who came into the limelight as a singer in Australian talent competitions and YouTube. He has gained significant fame and fortune in his career.
Troye's musical career has helped him come to the media attention for a long time. Hence, people want to know about his personal life. Thus, in this biography, let's know in detail about his parents, love life, net worth, and many more.
Born In An Orthodox Jewish Family
The singer was born Troye Sivan Mellet on June 5, 1995, in Johannesburg, South Africa. He was born and brought up in an Orthodox Jewish family.
Troye Sivan's parents are Laurelle Mellet and Shaun Mellet. His dad is an entrepreneur and real estate agent, and his mother is a homemaker. He grew up with his three siblings in Perth, Western Australia.
Troye Sivan's siblings are Tyde Levi, Sage Mellet, and Steele Mellet. They all must have had a wonderful time growing up together.
Sivan went to Carmel School until 2009. It is a private Modern Orthodox school. After 2009, he began distance education.
Also Read: Take A Look At Emma Raimi's Biography
Troye Sivan, Net Worth – $8 Million
The singer has not only gained fame from his musical career, but he has also amassed a significant fortune. According to Celebrity Net Worth, Troye Sivan's net worth is estimated to be $8 million. His wealth comprises his earnings from his albums, YouTube channel, tours, etc.
Troye began his musical career by singing at the 2006, 2007, and 2008 Channel Seven Perth Telethon. During the 2006 performance, he did a duet with Guy Sebastian. Sivan even made it to the finals of StarSearch 2007.
In 2007, Sivan released his debut album Dare to Dream. He had already begun his YouTube channel, and in a 2013 video, he announced he was gay. The video was covered by the Business Insider and the Huffington Post, which increased his fanbase even more.
In June 2013, EMI Australia signed the musician but kept it a secret until a year later. Afterward, he released TRXYE, a five-song EP that debuted at No.1 on iTunes in more than fifty-five nations. In September 2015, he released his next major-label EP, Wild.
Sivan's debut studio album Blue Neighbourhood was released in December 2015. Apart from these albums, he has also released several singles that have ranked higher on Billboard charts.
Apart from being a musical celebrity, Troye is an actor. He has acted in numerous movies that have done good in box office collection and gotten good reviews. X-Men Origins: Wolverine ($179.9M), Boy Erased ($6.7M), Spud, Three Months, Spud 2: The Madness Continues, and Spud 3: Learning to Fly are some of Sivan's film credits.
As mentioned earlier, Troye is also a YouTuber. His channel has a total of 7.59 million subscribers. He has been uploading videos since 2007. As per social blade, Sivan has estimated monthly earnings of $4.7K to $74.6K and yearly earnings of $56K to $895.6K.
Because of his musical career, the songwriter has reached a significant height of fame and prominence. As a result, he must have been offered a partnership and sponsorship deals from different brands.
In October 2019, Troye was announced as the ambassador of Perfect Diary, an animal eye shadow brand. He was also involved in Beyonce's Adidas X IVY PARK's New IVY Heart Campaign. He must have signed partnership deals with other brands, which must be paying him significantly.
Thus, looking at his earnings, Troye Sivan's net worth of $8 million seems reasonable.
Dave Matthews is another musician with immense fortune.
Who Is Troye Sivan's Boyfriend?
All thanks to his musical success, Troye has gained worldwide prominence. Many fans have shown curiosity in knowing who Troye Sivan's boyfriend is.
The musician previously started his relationship with American model Jacob Bixenman. The couple met at a fashion show in 2016 and began dating shortly after. In August same year, he went public with his relationship.
The duo lived together in Los Angeles, and they made several appearances together at many events. His song My My My! was inspired by his partner. Furthermore, Troye Sivan's beau even made a cameo in his music video Heaven.
However,  the rumors regarding the end of their relationship circulated when the singer went back home to Australia to stay with his family while his other half remained in the USA amidst the pandemic. Similarly, the speculations began arising when Troye described collaborator Lauv as his boyfriend in January 2019.
But, in February 2019, Sivan dispelled rumors by tweeting about their third anniversary.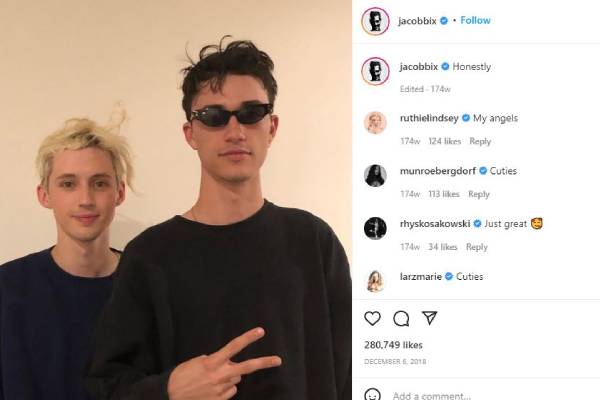 But fans are still assuming the couple has broken up, considering both have not shared any posts of each other for some time. Well, the truth about whether the lovebirds are still dating will only be known when one of them speaks.
Let's hope the singer talks about his love life soon. As Sivan is still very involved in his career, his net worth must be increasing significantly over the years. Moreover, Troye's parents and siblings must be proud of his achievements.
We wish the singer a successful career ahead.