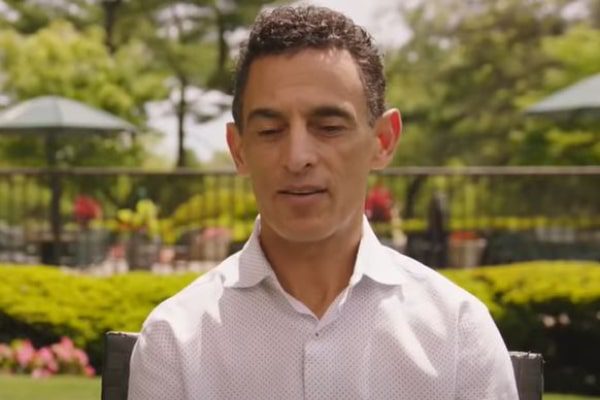 Birth Date

November 24, 1971

Birth Name

John R. Velazquez

Age

52

Also Known As

Johnny V

Height

5' 6''

Weight

112.4 pounds

Mother's Name

Margarita Velazquez

Birth Place

Carolina, Puerto Rico

Birth Sign

Sagittarius

Nationality

Puerto Rican

Profession

Horse Jockey

Partner

Leona O'Brien

Relationship Status

Married

Eye Color

Brown

Hair Color

Black

Children

Michael Velazquez, Lerina Velazquez

Awards Honors

National Museum of Racing and Hall of Fame
John Velazquez is a well-renowned Puerto Rican jockey who has won fifteen Breeders' Cup, six Triple Crown Races, and some major graded stakes. He has also claimed three Kentucky Derby titles under his name.
With over 6,000 career wins, Velazquez is one of the most highly-decorated horse racing jockeys in the world. He won the 2020 Kentucky Derby during the time of his mother-in-law's cancer diagnosis.
Despite being one of the most renowned Thoroughbred racing jockeys globally, many still don't know much about him. So, let's talk about John Velazquez's career, wife, family, and net worth in this article.
Difficulty Journey To The Top
The elite racer has had a challenging path to being one of the top-earning horse jockeys in the world. John started in a small town in Puerto Rico before moving to New York City to pave his way in the horse racing business.
The jockey was born John R. Velazquez on November 24, 1971, to Puerto Rican parents. John Velazquez's father's name is still unknown to the public, but his mother, Margarita Velazquez, has occasionally appeared in the media.
Velazquez has had a difficult journey to the top, but his mentor Angel Cordero Jr., was a great help, and he appreciates his agent's dedication to his career. John consistently thanks Angel for teaching him how to survive and adapt to a new country, not just in the racing world. However, they parted ways in 2020.
John started to race when he was a teenager, and he thanks his mother for helping him stay on track from such a young age. He traveled from Puerto Rico to a new place while unable to speak English and struggling to adapt.
The jockey is also the chairman of the board of the Jockeys' Guild and is on the board of the Permanently Disabled Jockeys Fund.
John Velazquez Net Worth And Career
Since his school days, the Puerto-Rican jockey has pursued his interest in horse racing and has won many trophies and awards in his illustrious career. So, John Velazquez's net worth primarily consists of his earnings as a horse jockey. He has also won some titles multiple times, further increasing his income.
John has won three Kentucky Derby titles in his career. He first won the championship in 2011, while his second win came with the horse Always Dreaming in 2017, trained by famous horse trainer Todd A. Pletcher. He won his third trophy in 2017 when trainer Bob Baffert managed his horse, Authentic.
The three-time Kentucky Derby winner had also clinched the title in the 2021 season. But, it was stripped away after his horse Medina Spirit tested drug positive. The winner of that season's prize money was $1.86 million.
Velazquez has won fifteen Breeders' Cup, with the first one being in the Breeders' Cup Mile in 1998. Likewise, the following two wins in that event came in 2012 and 2017. The year 2017 proved to be a great success for the athlete as he also won the Breeders' Cup Distaff. Likewise, John also won Breeders' Cup Juvenile and Marathon in 2010, along with Juvenile Fillies Turf and Filly and Mare Turf in 2011.
Moreover, he also bagged the Breeders' Cup Classic and Filly and Mare Sprint in 2020. Additionally, John has been able to win not just one but two Belmont Stakes events in 2007 and 2012.
Having won lot's of competitions, let's take a look at John Velazquez's earnings:
| | | |
| --- | --- | --- |
| Year | Earnings | Per Start |
| 2021 | $17,738,203 | $25,523 |
| 2020 | $15,250,515 | $23,037 |
| 2019 | $18,795,157 | $24,189 |
| 2018 | $18,074,053 |  $21,961 |
| 2017 | $20,780,733 | $21,967 |
Table Source: Equibase
With all these victories, Velazquez has amassed a considerable amount of wealth. Furthermore, he was enlisted in the National Museum of Racing and Hall of Fame in 2012 and the Puerto Rico Horse Racing Hall of Fame in 2006.
An average horse racing jockey earns around $52,737 per year. The winner of the triple crown race earned about $1.24 million in 2018, and since John has won it six times, he certainly has garnered a lot of income from those events.
According to Equibase, his racing horses have earned more than $451 million throughout his career. So, John Velazquez's net worth must be multi-million dollars.
Also Read: More About Horse Trainer Koichi Shintani 
Married To A Horse Trainer's Daughter
John married retired Thoroughbred horse trainer Leo O'Brien's daughter, Leona O'Brien, in 1994. Since Leona is from a horse racing family, she constantly used to visit her father's races.
John met his now-spouse, Leona, at Belmont Park, and they soon started dating. The exact details of their romance are uncertain, but the horse racer was said to be interested in her before they even started talking.
John Velazquez's wife, Leona, understands the difficulty of getting married to a horse racer. She acknowledges the dedication and hard work athlete puts in their day-to-day life.
John's father-in-law, Leo, also appreciates him as he constantly reminds the world what a hardworking talent his son-in-law is. Unfortunately, Leo lost his wife, Joan O'Brien, at 75 in 2022 due to cancer.
Father Of Two
The Puerto Rican jockey is a dotting father of two children. John Velazquez's daughter, Lerina Velazquez, graduated from Sacred Heart Academy. Afterward, she enrolled at New York University. Moreover, the father-daughter duo often poses together on social media.
First time in years that I go somewhere out of US n I don't have to ride. #Paris pic.twitter.com/Y54wXhokIn

— John Velazquez (@ljlmvel) July 12, 2017
Likewise, John Velazquez's son Michael Velazquez attended the St. Anne's School in Garden City. The former's kids often attend his matches to cheer for him.
John has a good professional and personal life after making a big name for himself in the horse racing world. Let's hope he and his family are okay now after the loss of his mother-in-law.