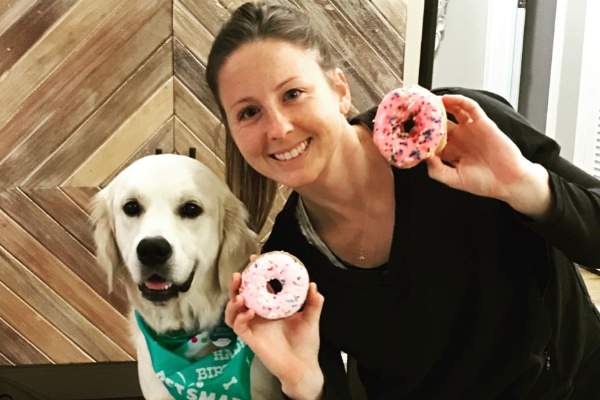 Birth Date

July 12, 1991

Birth Name

Julia Reinprecht

Age

32

Height

5' 3''

Father's Name

Jim Reinprecht

Mother's Name

Tina Reinprecht

Birth Place

Philadelphia, Pennsylvania, U.S.A.

Birth Sign

Cancer

Nationality

American

Partner

Theodore Schneider

Relationship Status

Married

Hair Color

Brunette

Children

Graham Edward Schneider

Twitter

https://twitter.com/jreinpre

Instagram

https://www.instagram.com/jreinpre/
Julia Reinprecht is a retired American field hockey player who is also a two-time Olympian. She competed for the U.S. Women's National Field Hockey Team at the 2012 and 2016 Summer Olympics. Sadly, she announced her retirement from the national team in 2016.
As of now, it has been about six years since the athlete retired. Many people might be curious to know about her. Thus, we will learn about Julia Reinprecht in his biography, which includes her net worth, career, family, parents, love life, and more.
Has Two Older Sisters
The former hockey player was born in Philadelphia, Pennsylvania, USA, to her parents, Jim Reinprecht and Tina Reinprecht, on July 12, 1991. Julia Reinprecht's mother and father raised her with lots of pets such as rabbits, dogs, hamsters, turtles, birds, and more. It was thanks to her grandparents owning a farm.
The 1991-born athlete completed her high school studies at Mount Saint Joseph's Academy in Montgomery County in 2009. Later, she attended Princeton University and competed for the college's field hockey team. Furthermore, Julia is the youngest child of her parents and has two older sisters. Both her siblings, Katie Reinprecht and Sarah Reinprecht, were field hockey players and played for Princeton University.
View this post on Instagram
The Olympian played for the college team along with her sister, Katie. The Reinprecht sisters also competed for the U.S. National Team and even announced their retirement together in 2016. Moreover, in November of 2013, Julia suffered from a severe head injury that nearly ended her career as a field hockey player during her final appearance at Princeton.
The Princeton graduate was hit in the head with a hockey stick while playing against Penn State in the NCAA tournament. At first, the injury was thought to be a concussion, but it turned out her skull had been fractured with bleeding in her brain. Fortunately, she overcame her injury and proceeded to join the national team for the 2016 Olympics.
Also Read: Take A Look At Jason Brandon's Biography
Julia Reinprecht Net Worth And Career
The sportswoman started competing in field hockey championship games from a very young age. Her mother and sisters were also pretty involved in the game, so it was natural for her to pick up the sport. She must have made a fortune playing field hockey for a long time. Therefore, Julia Reinprecht's net worth also must be a significant amount.
After competing at the 2009 Junior World Cup, Julia was named to the U.S. Women's National Team Development Squad and the U.S. U-21 Women's National Team. Then a year later, in 2010, she was named unanimous first-team All-Ivy, first-team All-Region, and a second-team All-America while attending Princeton.
In 2015, Reinprecht played a few series against Argentina, Ireland, Great Britain, and Japan with her team. Additionally, she also competed in eight Nations Tournaments in the same season. Afterward, in 2016, the two-time Olympian competed in a few series against Canada, Chile, Holland, and in Citi Rio Send-Off Series. She has numerous World Championship experiences and even won gold at the 2013 World League Round 2 and 2014 Champions Challenge with her team. Moreover, she bagged two gold medals at the 2011 and 2015 Pan American Games.
As per ZipRecruiter, the average annual pay of a field hockey player is $33,605. Considering the athlete's accomplishments, her income must have been above that range. Hence, Julia Reinprecht's net worth must be massive.
Is Blissfully Married
As the title suggests, the former US member is happily married to her spouse, Theodore David Schneider. Julia Reinprecht's husband, Teddy Schneider, is a Director and Portfolio Advisor at Round Table Wealth Management. Born on November 23, 1988, he is also a former professional soccer player who competed for the New York Red Bulls.
Well, the story about Julia and Teddy's encounter has not been revealed yet. However, our guess is that the pair met at college since both attended Princeton University. The former field hockey player first posted a picture with her now-spouse on her social media account in July of 2012. So, could it be that the couple knew each other before that?
Nonetheless, the lovebirds tied the knot on August 25, 2018, and are enjoying a happy and healthy marital relationship. Both Julia and Teddy often share pictures and posts about one another on their Instagram accounts, expressing their love and appreciation for each other.
Likewise, Melissa Gonzalez is another hockey player who is married.
Doting Mother Of One
Two years after exchanging their wedding vows, Juila and Theodore welcomed a baby boy into their family. Julia Reinprecht's son, Graham Edward Schneider, arrived on December 27, 2020. The little bundle of joy makes frequent appearances on his parents' Instagram handles.
Being the only child, Graham must receive much love and adoration from everyone around him, including his grandparents. Overall, Reinprecht must be living quite a comfortable life with her baby and husband. Well, with her fortune being massive, we are sure her family could even enjoy a luxurious life. Nevertheless, we wish the Olympian much happiness and prosperity in her life ahead.
Trivia And Facts
Julia Reinprecht's given name is an ancient Roman name that means "Supreme God."
The athlete has over 2K followers on her Instagram.
She has a white labrador pet dog named Scout.