Birth Name

Katie Katro

Height

5' 8''

Weight

130 lbs

Birth Place

Athens, Greece

Nationality

American

Profession

Journalist

Relationship Status

Not Confirmed

Eye Color

Blue

Hair Color

Black

Awards Honors

Congressional Award Gold Medal
A well-renowned and established American news reporter and anchor, Katie Katro is best known for her live news anchoring on Fox 61 News and 6abc Action News Channel. One of the accomplished journalists of America, Katro is an inspiration to many youths, and her career has only escalated over the years because of her talent and hard work.
Furthermore, Katro is a gold medalist journalist currently working as a news reporter at 6abc Action News Channel. In addition, she has also worked with several news channels, networks, and stations, for the last several years of her career.
Apart from being a successful television personality, there are various amazing things you might not know about her. Hence, this biography is all about Katie's family, earnings, and love life.
Katie Has A Diverse Family Background
The talented media personality was born in Athens, Greece. Although her exact birthday hasn't been revealed, some sites claim her birthdate falls in December 1992. Likewise, not much is known about the journalist's parents and family, but they were said to have grown up in communist Albania. Before immigrating to Philadelphia, Katie lived in England and Belfast. She also spent her childhood years in East Oak Lane, Mount Airy, and Abington.
Since Katie's name is quite unique, many wonder if that's her real name. Moreover, the media personality shares a tight-knit bond with her parents as she is often seen posting photos with them on her official Instagram account. She also wishes her mom and dad on their birthdays. Talking about her siblings, Katie has one brother who is close to her.
View this post on Instagram
The news reporter grew up watching Action News and always aspired to become a journalist. Not just that, but her diverse family background also pushed her to pursue a career in the media sector so that she could share stories of the people who needed a voice.
Talking about her educational background, Katro graduated from Abington High School, where she developed a strong passion for journalism through its communications program. During her high school days, she used to produce news pieces that she shot and edited by herself for Abington's cable channel. Moreover, Katie obtained her degree in broadcast journalism from Temple University in 2015.
Also read: More About Mary Nightingale's Biography
Katie Katro Net Worth And Career
Undoubtedly, she is one of the most hardworking and talented journalists in America. Furthermore, Katie Katro's net worth must have been influenced by her journalism career. 
The news presented initially started her journey as the editor-in-chief for her high school's paper while she was in her senior year. As a result, she was awarded the Congressional Award Gold Medal for more than 400 hours of community service.
Throughout her career, Katie has covered several important events like the Walmart Shareholders meeting, the LPGA Tournament, and the Bentonville Film Festival. In addition, she covered a major plane crash that involved the former Walmart CEO as well.
Not just that, she also went on to search the documents of a famous aviator's historic home, which was set to be decimated. Katro was successful in saving the house as a result of her coverage. Moreover, she also reported several visits by many presidential candidates, including Ted Cruz, Donald Trump, and Marco Rubio.
Besides, Katro worked at FOX 61 News Station from September 2016 to November 2018, based in Hartford, Connecticut. Currently, she is actively involved as a reporter and journalist at 6abc Action News Channel.
Furthermore, the average pay of a journalist is $41,824 per year. Therefore, Katro's salary must also be significant from her current tv station. In essence, Katie Katro's net worth is expected to increase and grow more in the coming years.
Another person who has gained much recognition for her television works is Fiona Bruce.
Who Is The News Reporter Dating Recently?
When it comes to love life, Katie has maintained complete secrecy from the eye of the public. Likewise, she has also maintained privacy regarding her marriage and kids. Therefore, the information regarding Katie Katro's boyfriend or husband has not been revealed yet.
She doesn't seem to have been associated with any other person in the past or the present. Also, going through her Instagram, the raven-haired beauty often posts about her works and seems to be a workaholic. As she is very career-oriented, could it be she is entirely focused on her job now?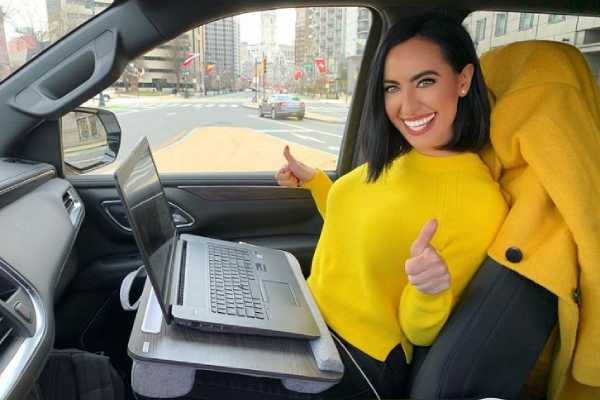 Katie Katro has been passionate about journalism and the media industry since she was young. She worked hard every day and has made a strong impact on society. Now, many young journalists look up to her, and hopefully, it remains the same in the future as well.
Trivia and Facts
Katie is a big-time hodophile, meaning she loves to travel. She has visited more than 15 countries and learned about different cultures and embraced cultural differences.
She is passionate about mentoring student journalists and loves selflessly giving back to her community.
She served on the Communications Advisory Board for Manchester Community.
Katie is also a Chelsea F.C. fan.