Birth Date

November 30, 2002

Birth Name

Marina Stefanoni

Age

21

Height

5 ft 5 in

Weight

135 pounds

Father's Name

Chris Stefanoni

Mother's Name

Peggy Stefanoni

Birth Place

Stamford, USA

Birth Sign

Sagittarius

Nationality

American

Profession

Squash Player

Relationship Status

In a Relationship

Eye Color

Brown

Hair Color

Brown
Last updated on March 26th, 2022 at 07:02 pm
Marina Stefanoni is a squash professional from the United States. Despite the fact that she is still quite young, she has risen to the top of the squash world rankings.
Marina Stefanoni, who has received numerous distinctions and awards, still has a long way to go. So, let's learn more about this professional squash player from the United States.
Comes From A Sports Enthusiastic Family
The squash player was born on 30th November 2002 in Stamford, USA. She graduated from Darien High School in 2020. The athlete is now enrolled in Harvard University.
Marina was born to her parents, Peggy Stefanoni and Chris Stefanoni. Marina Stefanoni's parents met at Harvard in a Renaissance art class when Peggy was a freshman and Chris was a senior. Marina's father was a sprinter, javelin thrower, and rugby player, while Peggy, who grew up in Guatemala, played squash.
Moreover, Marina Stefanoni's dad is now her primary coach. Similarly, the tournament champion grew up with her four other siblings; Enzo Stefanoni, Aldo Stefanoni, Lucie Stefanoni, and Nico Stefanoni. While all her siblings are baseball players in one or another way, Marina's sister Lucie is a squash player just like her.
Lucie is a student of Middlesex Middle School. For the records, both the Stefanoni sisters have each won National Junior squash titles.
Similarly, also learn about another American squash player Sabrina Sobhy.
Marina Stefanoni Net Worth & Career
Marina won the national girls' under-11 title in 2013, barely a year after she began playing squash. Similarly, she became the youngest winner of the under-19 national championship three years later. In other words, the Stamford native won back-to-back national titles in her earlier years.
This might be why the rising star was given a wild card to compete in the Tournament of Champions in 2018. Also, this made Marina Stefanoni the youngest contestant in the tournament's history. Unfortunately, the youngster lost the match at the Tournament of Champions and could not secure a portion of the $300K prize pool.
Nevertheless, Marina Stefanoni has won multiple international junior titles and competed at the World Junior Championships. That being said, the young player has played in 27 tournaments and 53 matches till now. Out of which, she went on to win 30 games and lost 23.
Furthermore, the squash star has reached 4 finals.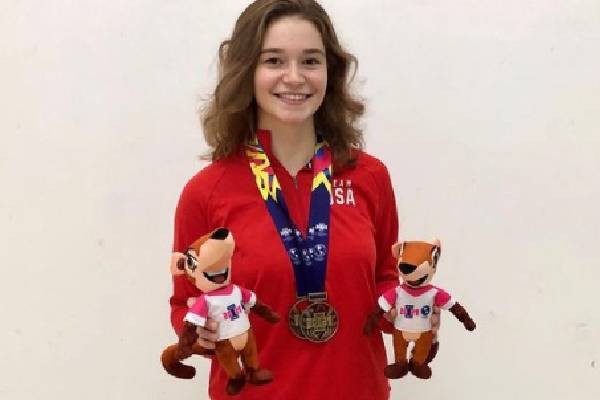 A pro squash player earns an average of $100,000 per year, according to Sports Centaur. Hence, Marina Stefanoni's net worth is sure to increase even more in the coming years.
Also Read: Get To Know Hana Moataz
What is Marina Stefanoni's Relationship Status?
The squash's star is currently dating. However, there is a post of her that indicates that even though the couple has been dating for a year, Marina Stefanoni's boyfriend hasn't asked her out.
Nevertheless, we are happy that the player has found the one. The guy whom the squash player is dating is Tim Fargiano. Moreover, Tim is also a Harvard Student just like his girlfriend Marina.
View this post on Instagram
Well, we anticipate hearing more from the loving and adorable couple.
Furthermore, the U-19 champion seems very happy and content with her life and career. Not to mention, she might be working hard to achieve her goals. Similarly, we would like to see Marina secure victories in upcoming tournaments.