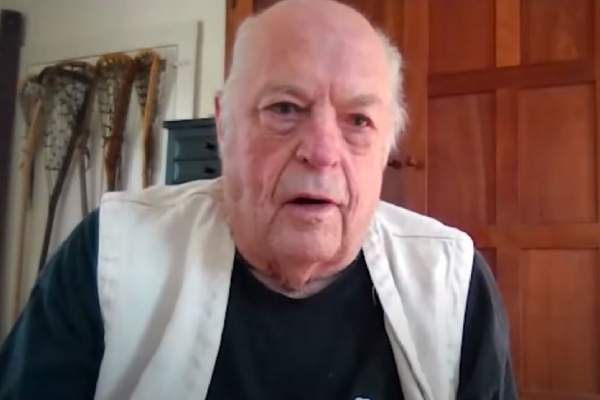 Birth Date

August 6, 1935

Birth Name

Roy D. Simmons Jr.

Age

88

Also Known As

Roy Simmons Jr.

Father's Name

Roy D. Simmons Sr.

Mother's Name

Thelma M. Rees Simmons

Birth Place

Syracuse, New York, USA

Birth Sign

Leo

Nationality

American

Profession

Former Lacrosse Coach

Relationship Status

Widowed

Hair Color

White

Children

Roy Simmons III, Ron Simmons, Robin Simmons

Education

Bachelor of Fine Arts in Sculpture
If you are an avid lacrosse fan, you might be familiar with the Simmons family. If not, it is one of the renowned families in lacrosse history. Roy Simmons Jr. hails from that household. He is the former head coach of the Syracuse Orange men's lacrosse team.
Not many details have been revealed about him. So, let's dig into this article regarding Roy and his personal information along with his professional career.
His Dad Was A Professional Lacrosse Coach
Roy D. Simmons Jr. was born on August 6, 1935, in Syracuse, New York, USA. Roy Simmons Jr.'s father, Roy D. Simmons Sr., served as the head coach of the Syracuse Orange men's lacrosse team from 1931 to 1970. In his career, he secured over 250 wins. Apart from being a coach, Simmons Sr. was also a great player.
Furthermore, Roy was raised by his dad and mom, Thelma M. Rees Simmons, along with his siblings Constance R. Simmons. Unfortunately, Roy Simmons Jr.'s parents passed away in the 1990s and his sister in the 1970s. Talking about his education, the coach attended Kimball Union Academy. For three seasons, he played on the school's lacrosse team. Then, in 1955, he enrolled at Syracuse University.
While Roy Jr. was on the university team as a player, his late dad was the coach at that time. He graduated in 1958 with a Bachelor of Fine Arts in sculpture.
Roy Simmons Jr. Net Worth And Career
As the son of the coach, Roy must have been influenced by his old man. He once revealed that during his early years, he was a regular in his dad's team's locker room and was a mascot for them as well. During his high school and college years, he had a pretty successful playing career and earned several titles and mentions. It was after graduation that he started his coaching journey.
Hence, in all these years of his professional career, the Syracuse native must have earned considerably. So, Roy Simmons Jr.'s net worth must be a substantial amount.
In 1959, Roy joined his father's staff as coach of the first-year lacrosse team. 12 years later, after his dad left the program, he succeeded as head coach of the varsity team. Under the sports personality's tenure, the Syracuse Orange saw a drastic change in its records. In 1980, he received the F. Morris Touchstone Trophy as the Division I Coach of the Year.
Following an 11-10 defeat against Princeton, the head coach announced his retirement in 1998. He later revealed that he did so to pursue an art hobby and have more family time. John Desko, who was serving as Roy's assistant coach then, took the head coaching job. Among several of his awards and titles, he was inducted into the Orange's Ring of Honor in the Carrier Dome in February 2022.
On average, a lacrosse coach earns around $38,795 annually. So, during his coaching career, Roy must have made considerable earnings. Thus, Roy D. Simmons' net worth must have been a substantial amount.
His Spouse Has Already Passed Away
Talking about his personal life, the former lacrosse coach was happily married to Nancy Simmons. The couple met at Syracuse University when they were studying there. In 1957, the duo got married. Roy Simmons Jr.'s wife had a passion for teaching physical education to young students. She worked as a teacher at Jamesville-Dewitt Middle School for 20 years until her retirement.
Moreover, Roy's spouse took a sabbatical from her career to stay home and raise their kids. She only joined the school later on. Unfortunately, on December 6, 2007, Mrs. Simmons passed away. As per one article, a bacterial infection had forced surgeons to attach a new valve to her heart. In the 2007 winter, she had some problems with her health. Ultimately, Nancy's heart had failed to cause her untimely demise.
The former coach was devastated after losing such a beloved person. He was also in the process of establishing Nancy Simmons Wisdom House in his late spouse's memory.
Also Read: Learn More About Rex Brown
Welcomed Three Children Together
With his beloved wife, Nancy, the Syracuse native former coach welcomed three kids together. Roy Simmons Jr.'s children, Roy D. Simmons III, Ron Simmons, and Robin Simmons, have already grown up. Furthermore, his son, Roy III, was the director of operations of the Syracuse Orange. Prior to that, he served the team as the defensive and offensive coordinator. In June 2022, he announced his retirement.
A man who has impacted countless 'Cuse athletes in more than four decades, who connects generations of lacrosse alumni – Roy Simmons III is retiring.

The winningest family in lacrosse, four generations of Simmons have been part of 877 SU wins.

More: https://t.co/WzaFO6LZqV pic.twitter.com/ZiED4fBjIV

— Syracuse Men's Lacrosse (@CuseMLAX) June 28, 2022
Overall, Roy Simmons Jr. must be doing well and living a contentful life. Let's hope we will get to hear more about what he is doing currently. We wish the former coach a blissful life ahead.
Trivia And Facts
For his playing career, Roy was inducted into the National Lacrosse Hall of Fame in 1991.
In 1990, Simmons was selected to be a member of the Greater Syracuse Sports Hall of Fame.