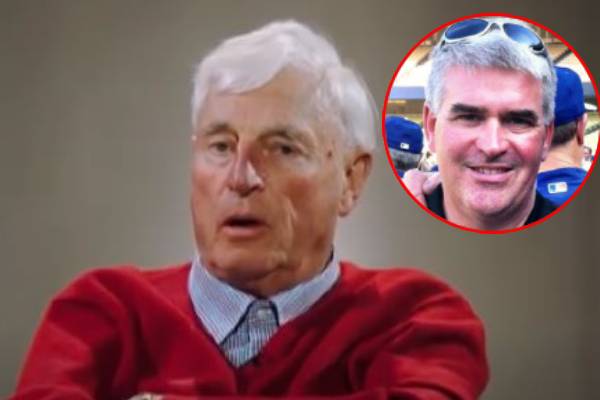 Birth Name

Tim Knight

Father's Name

Bob Knight

Mother's Name

Nancy Falk

Nationality

American

Relationship Status

Not Confirmed

Hair Color

White

Children

Brady Knight

Education

Bachelor of Arts in Economics
Bob Knight, aka Robert Montgomery Knight, is a well-known former basketball coach. Popularly recognized as "the General," Bob has been considered one of the greatest coaches of all time, having won 902 NCAA Division I men's college basketball games.
The former NCAA coach is a doting father of two sons. Among his children, his eldest has followed in his footsteps. But apart from him, many want to know about his youngest child. So this biography is about Bob Knight's son, Tim Knight, along with information about his personal life.
The Youngest Child Of His Parents
Tim Knight was born into a sports enthusiastic family. However, his birth details have not been disclosed yet.
Tim Knight's parents are Nancy Falk and Bob Knight. They are no longer together. His dad remarried Karen Vieth Edgar after divorcing his mom. He grew up with his brother, Pat Knight, also known as Patrick Clair Knight, in West Point, New York.
Knight's sibling, Pat, followed their dad's footsteps and became a basketball coach. He was previously the head coach of Texas Tech.
Tim attended Bloomington High School North. Then, he went to Stanford University from 1982 to 1986. From there, Knight received a Bachelor of Arts in Economics.
Tim Knight Net Worth And Earnings
Tim comes from a famous and wealthy basketball family. He must have also earned significantly from his business interests. As a result, Tim Knight's net worth must be a considerable sum.
Unlike his brother, Tim pursued a different career line. After completing his undergraduate degree, Knight began working as a salesman and coordinator at Knight, Inc in 1987. Two years later, he joined Tim Knight Enterprises as the President and worked until 2001.
In June 2001, Texas Tech University hired the Stanford graduate as its Assistant Athletic Director. A year later, he was investigated by TTU officials for an accounting mistake. During basketball season, he reportedly managed Double T Shoppe, which was owned by the university.
Tim had traded some merchandise with a business in Indiana, the General's Store, which was operated by his mom, Nancy. But, the changed items and their transactions were not documented. After the incident, he voluntarily stepped down from his position as the manager.
Furthermore, Knight worked at TTU for ten years and later began serving as the Chief Development Officer at Vernon Wells Perfect 10 Foundation. Since June 2013, he has been working as an executive director at Coaches & Friends For The Military.
Although the exact salary that Tim has received from his job has not been revealed yet, based on his work experience, it can be assumed that he must have earned considerably. As a result, Tim Knight's net worth must be a massive sum.
On the other hand, Tim Knight's dad, Bob, is a successful basketball coach. In his many years of professional career, he achieved staggering fame and money. As a result, Bob Knight's net worth is estimated to be $15 million.
Similarly, Tim Knight's brother has also made a good name for himself on the basketball field. Along with his popularity, he has also earned a considerable amount. Hence, Pat Knight's net worth is also a massive sum.
Also Read: Learn About Annika Sorenstam's Ex-Husband David Esch
Who Is Tim Knight's Wife?
Tim comes from a basketball family that is comparatively renowned in the sports world. However, even after being well-known due to his family name, he seems to be one that prefers to live a private life.
Bob Knight's son, Tim, has not talked about his personal life in the media. Moreover, he does not make many public appearances. Hence, there's no information about Tim Knight's wife. His social media is also private, which has made it even more difficult to know about his personal life.
Nevertheless, the executive director might have wanted to protect the privacy of her spouse. But it has been known that he has a son named Brady Knight, who was born in 1999.
Tim Knight's son has a special bond with his granddad, Bob. In 2000, Tim's stepmother revealed that the senior Knight would call him asking him to put Brady on the phone, who was only 13-months old at that time.
Nevertheless, Tim must be living a wonderful life away from the media limelight. Going through his Facebook, we can see that he often goes fishing. So, he might be interested in outdoor activities.

Tim's parents and siblings must be proud of his career. Hopefully, he will open up more about himself in the coming days, and we might get to know more about his wife and children.
Tim must be enjoying a comfortable life because of his earnings. Nonetheless, we hope he will have a successful career in the future.