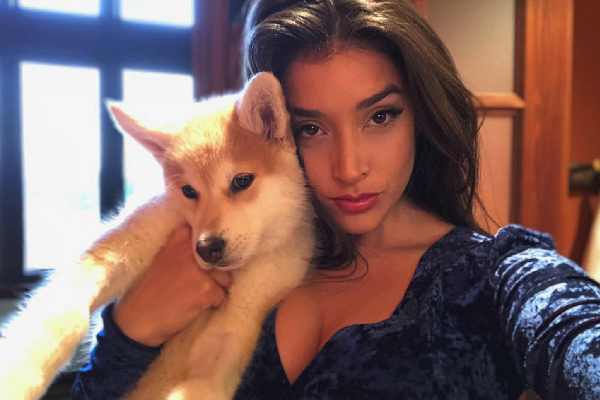 Birth Date

September 15, 1992

Birth Name

Anjali Ranadive

Age

30

Also Known As

Nani

Father's Name

Vivek Ranadive

Mother's Name

Deborah Addicott

Birth Place

San Francisco, California, USA

Birth Sign

Virgo

Nationality

American

Profession

Singer

Relationship Status

Not Confirmed

Eye Color

Light Brown

Hair Color

Light Brown

Education

Bachelor of Science in Marine Science

Awards Honors

Paul Walker Ocean Leadership Award

Instagram

https://www.instagram.com/nani/
Last updated on June 13th, 2022 at 10:41 am
Anjali World, born into a business family, is now a famous R&B singer and songwriter who goes by the stage name "Nani." The renowned singer has released and written many inspiring songs.
Still, much information about her is unknown, and people are curious to learn more about her. In this brief biography, we'll learn more about Anjali World's net worth, career, family, boyfriend, and siblings.
Her Father Is A Businessman
The songstress was born Anjali Ranadive on September 15, 1992, in San Francisco Bay Area, California, the USA, to her parents, Vivek Ranadive and Deborah Addicott. Her dad is originally from India, but later, he moved to the states for his studies. Unfortunately, Anjali World's parents called their marriage off after Deborah filed for divorce in June 1999.
Furthermore, Anjali World's father is a renowned businessman who owns several companies. He is the chairperson of the famous basketball team Sacramento Kings. Also, he is the founder of Teknekron Software Systems. Likewise, World grew up with her two brothers, Andre Ranadive, who is in the US army, and Aneel Ranadive, founder of Soma Capital.
The California native did her bachelor's from the University of California, Berkeley, and earned a degree in marine science.
Anjali World Net Worth And Career
As mentioned earlier, the vocalist has released many songs. Hence, Anjali World's net worth mainly comprises her earnings from her music album sales and other ventures. Her singles are also available on her YouTube channel.
The songstress delivered her debut song, We Turn Up, in 2014. She has since released other songs like Uh Oh, Loveless, Bad Boy Good, Near You, Undress, More Time On You, and many more. Her music Nobody features the famous American rapper Tyga. In addition, she donates all of her music profits to her non-profit organization, Jaws & Paws.
Besides that, the talented musician's YouTube channel boasts 17.6K subscribers. She must earn considerably from her channel as well. As her popularity has grown, Vivek Ranadive's daughter might have signed endorsement and partnership deals with several brands, which must be paying her well too.

On the other hand, Anjali is also the assistant general manager of her father's NBA team Sacramento Kings' G league affiliate Stockton Kings. Aside from that, she is also a marine conservationist, having founded Jaws and Paws, a foundation dedicated to marine and wildlife protection. In 2015, Ranadive also received the Paul Walker Ocean Leadership Award.
According to salary.com, the average earnings of a singer in the USA is $49,164 per year. So we can presume that World earns a lot of money from her music career. Thus, Anjali World's net worth must be a considerable sum from serving as the GM and her singing profession. Similarly, Anjali's dad's net worth is $700M, so we can assume she must have had a fantastic childhood.
Also Read: More About Molly Wright's Biography
Is Anjali World Engaged With Anyone?
When it comes to Vivek Ranadive's daughter's personal life, she has kept it private and never revealed anything about her romantic affairs. She hasn't specifically stated whether or not she is seeing anyone. However, there were once rumors of her being rapper Tyga's girlfriend. These rumors surfaced after Anjali and Tyga were seen spending a lot of time together in 2014.
To add fuel to the fire, Kylie Jenner was also mixed up with pregnancy rumors in the drama. But, Kylie denied being pregnant by Tyga via her tweet. Also, World shared that she and the rapper were only working in music together and not dating.
View this post on Instagram
Since then, the artist has kept her romantic desires hidden from public sight. Likewise, Anjali World's boyfriend is not mentioned on any of her social media accounts. So, there is a high possibility that she could be single. And for those of you asking, no, she doesn't seem to be engaged to anyone either. But, once a Twitter user Shreyas Laddha mentioned Anjali's engagement, though there is not much proof.
Aside from that, the well-known singer seems to be concentrating on her career now. She is likely leading a pleasant and fulfilled life. The musician also has a promising future in the music industry ahead as well. Hopefully, she shares more about her personal life too. We wish her healthy and happy life.
Trivia And Facts
When Indian Prime Minister Narendra Modi held a rally in Madison Square Garden, Anjali sang the national song.
Vivek Ranadive's daughter is a basketball fan.
World is an animal lover.
Her stage name "Nani" is a derivative of the Hindi term for "grandmother."