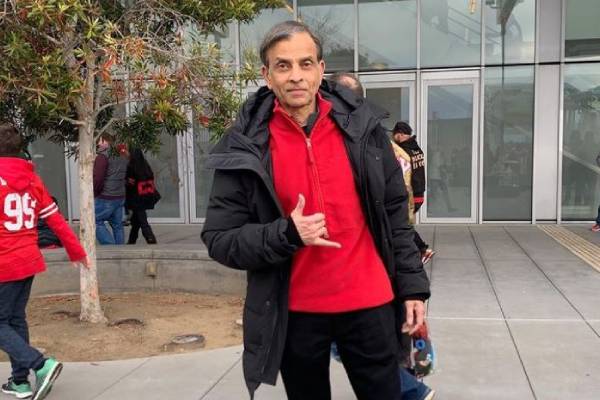 Birth Date

October 7, 1957

Birth Name

Vivek Yeshwant Ranadivé

Age

66

Height

5' 5"

Weight

174 lb

Father's Name

Yeshwant Ranadivé

Birth Place

Mumbai, Maharastra, India

Birth Sign

Libra

Nationality

American

Profession

Businessman

Net Worth

$700 million

Relationship Status

Divorced

Eye Color

Brown

Hair Color

Grey

Children

Aneel Ranadivé, Andre Ranadivé, Anjali Ranadivé

Education

MBA

Twitter

https://twitter.com/vivek

Instagram

https://www.instagram.com/vivek/
Last updated on June 13th, 2022 at 10:41 am
Vivek Ranadivé is a business executive, philanthropist, and speaker. He is mainly known for being the co-owner and chairman of the Sacramento Kings of the National Basketball Association. Ranadivé has established himself as one of the well-known figures in the NBA world.
Since he entered the limelight, Vivek's personal life has become a public affair. Many have shown curiosity to know about him. Thus, let's take a look at Vivek Ranadivé's biography consisting of facts about his net worth, career, parents, and many more.
Mumbai Native Businessman
The businessman tycoon was born Vivek Yeshwant Ranadivé on October 7, 1957, to Yeshwant Ranadivé. Talking about Vivek Ranadivé's mom, she passed away in 1984 due to cancer. Furthermore, he grew up in Mumbai, Maharastra, India, with his three older siblings. His sister, Smita Deshpande resides in California. Moreover, Tara Ranadivé is his grandmother.
View this post on Instagram
Vivek went to the Bombay International School at Babulnath, Mumbai. At 16, he was accepted to MIT. However, in those days, rupees were not convertible, and it was challenging to get foreign exchange, especially for bachelor's level studies. So, he talked his way into the RBI office and asked permission to get some foreign exchange to go to MIT.
Vivek showed up in Boston with one quarter's tuition paid due to the foreign exchange restriction. He received Bachelor's and Master's degrees in electrical engineering in four years. Furthermore, in 1983 he earned an MBA from Harvard Business School.
Vivek Ranadivé Net Worth – $700 Million
Vivek has become a household name in the business and the NBA world. From owning a company to being a part-owner of one of the well-known NBA teams, Ranadivé has gained fame and fortune massively. According to Celebrity Net Worth, Vivek Ranadivé's net worth is $700 million.
While studying at MIT, the Mumbai-born businessman did a short stint as an engineer and manager at Ford. Then, in 1985, he founded his own company, Teknekron Software Systems. The New York offices of Goldman Sachs had provided him with $250,000 to start the company.
By 1992, Vivek's company grew to about $8 million in yearly revenue and 200 employees. He sold his company to Reuters in the following year for $125 million. Furthermore, in 1997, he founded TIBCO Software Inc. with funding from Reuters and Cisco.
Vivek's business ventures continued as he founded Bow Capital. It is an early-stage startup investment firm. Hence, Ranadivé must be earning significantly.
Furthermore, in 2010, the Indian-American native became the vice chairman and co-owner of the Golden State Warriors. He became the first person of Indian background to co-own an NBA franchise. Then, in 2013, he had to sell his share of the Warriors after he announced that he would join Mark Mastriv and Ronald Burkle to purchase Sacramento Kings. He purchased 65% of the team for approximately $348 million.
Furthermore, in March 2022, the India-born businessman, was one of the investors to back Sir Martin Broughton's offer to become an owner of Chelsea.
Nevertheless, Vivek must have made considerable earnings from his business ventures. Thus, looking at his income, Vivek Ranadivé's net worth of $700 million looks plausible.
Micky Arison is another businessperson with a massive fortune.
Went Through A Failed Marriage
While Vivek's professional career has been a huge success, his marriage could not be that successful. He was married to Deborah Addicott. The smitten pair met for the first time on a blind date in 1979, and after going out for a while, they shared their wedding vows. At the time of their marriage, Vivek Ranadivé's wife worked as a nurse and lived with her grandmother.
The married pair moved to the East Coast, and after graduating, they returned to California to an apartment in Menlo Park. The lovely duo was enjoying their marriage. However, in June 1999, Vivek Ranadivé's spouse filed for a divorce. The estranged pair shared the custody of their children.
Since the separation, the businessman has focused on his children and business. He never remarried and seems to be living a content life.
Also Read: Learn About Noelle Quinn's Biography
A Proud Father Of Three Children
From his marriage with Deborah, the business tycoon welcomed three children. Vivek Ranadivé's son, Aneel Ranadivé, is his eldest child, born in 1984. He is the CEO and Co-founder of Tag and Pinchit.
Likewise, Vivek Ranadivé's another son, Andre Ranadivé is his second kid, who arrived on December 13, 1987. He is a member of the US Army. Furthermore, Vivek's daughter, Anjali Ranadivé was born on September 15, 1992. She is an R&B singer-songwriter and goes by the stage name "Nani." Furthermore, she is the founder of Jaws & Paws and even works as the assistant general manager of Stockton Kings.
Nonetheless, Vivek Ranadivé's children seem to be doing well in their respective professions. Likewise, all thanks to his staggering net worth, he must be living a luxurious lifestyle. We wish his business to flourish more in the coming days.
Trivia And Facts
Vivek has 29.5K followers on Instagram.
He even coached his baby girl's 12-under girls' basketball team.