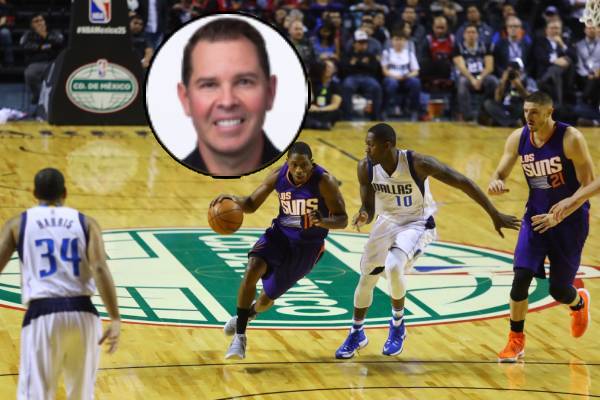 Birth Date

August 18, 1975

Birth Name

Brian Forte

Age

48

Father's Name

Joe Forte

Birth Place

Fairfax, Virginia, USA

Birth Sign

Leo

Nationality

American

Profession

NBA Referee

Partner

Jennifer Forte

Relationship Status

Married

Eye Color

Hazel

Hair Color

Black

Education

Bachelor's Degree in computing and business
Brian Forte is one of the NBA officials among 75 officiating staffs in the league in the 2021-2022 season. He has been involved in the NBA for many years. Through these years of his professional career, he has gained significant fame and success.
As a result of his popularity, Brian's personal life has also come into the limelight. However, very little has been known to the media. So, in this short biography, let's take a look at some of the information, including Brian Forte's marriage, earnings, parents, and many more.
Brian's Dad Is Also A Referee
Forte was born in Fairfax, Virginia, USA, on August 18, 1975. He currently resides in Smyrna, Georgia. Brian Forte's dad, Joe Forte, is a former NBA referee. However, his mom's identity has not been revealed yet. Who knows, he might have wanted to protect her privacy. Likewise, Brian's siblings have also remained a mystery.
Forte attended The Westminster Schools in Atlanta, Georgia. Furthermore, he was in the class of 1999 at Furman University. He holds a bachelor's degree in Computing and Business from the college.
Also Read: Take A Look At Tom Washington's Biography
Brian Forte Net Worth And Career
Anyone involved in sports, mainly basketball, dreams of getting into the NBA as the league is well-known for its hefty paychecks. Just like players, referees also play a significant role in any basketball matches, so they must also make massive earnings. Well, Brian Forte's net worth primarily benefits from his income in the league.
Being the son of a former NBA referee, Brian's father must have taught him the job. His officiating career began at the collegiate level. He worked as a referee in the Southern Conference and SEC. Moreover, Forte also served in the conference tournament of both leagues in 2007. That was the year he was selected as an NCAA referee.
After his collegiate officiating career, Forte began working as a referee in the NBA G League. His experience in the G League also included two Finals series. After entering NBA, he has officiated 20 playoff games and 723 regular-season games. He has already spent over twelve seasons as an NBA official. Furthermore, in February 2022, he became one of the 2022 All-Star Officials, along with James Williams and Kane Fitzgerald.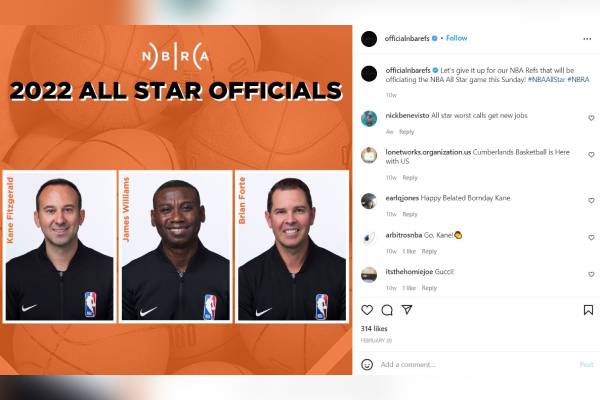 With that being said about his professional journey, let's talk about Brian Forte's salary. However, he has not revealed the exact amount. Nevertheless, it has been reported that an NBA referee gets paid in the range of $150K to $550K annually. Plus, their paychecks differ on the basis of their experience.
Considering Brian's experience of over twelve seasons, he must be earning significantly. Hence, Brian Forte's net worth must be a substantial sum. Moreover, there's zero doubt that he will continue to earn more, leading to an increment in his fortune in the future.
Is Brian Forte Married?
Yes, the Virginia native is married to a woman named Jennifer Forte. In a 2008 article, it was revealed that she was a third-year law student. At present, she must have graduated and is likely practicing law. Despite being in the spotlight, the referee has successfully kept his personal life hidden from media scrutiny. Hence, Brian Forte's wife is nowhere to be seen in the media.
On top of that, the NBA official does not seem to have any official social media account to his name. He also hasn't shared whether he has any kids. So, could it be that Brian is preserving the privacy of his spouse and children?
Nonetheless, let's hope Brian opens up about his family and personal life in the days to come. Furthermore, he might be earning more as he is still active in the league. Hopefully, Brian will continue refereeing in the coming days.
Trivia And Facts
Brian's most memorable experience was his first playoff game on April 19, 2014, which was Brooklyn Nets at Toronto Raptors.
Breaking Bad and The Godfather Part II are his favorite TV show and movie, respectively.