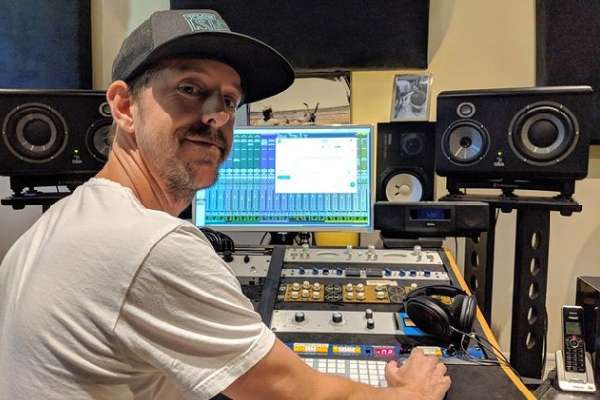 Birth Date

January 26, 1974

Birth Name

Chris Hesse

Age

49

Birth Place

California, USA

Birth Sign

Aquarius

Nationality

American

Profession

Drummer, Sound Engineer

Partner

Amy Allen

Relationship Status

Married

Eye Color

Dark Brown

Hair Color

Brown

Children

2

Twitter

https://twitter.com/darkhesse
Chris Hesse is best known as the original and current drummer for the band Hoobastank, and he also owns and runs The Lighthouse, his recording studio. Hesse creates, combines, and masters various musical styles at his studio.
Furthermore, Hesse is also a producer, songwriter, mixer, and engineer in southern California. His journey with Hoobastank served as the seed and has now grown into a successful bigger platform. To know more about how Chris established himself as a professional drummer and his personal life, stick with us till the very end.
Followed The Footsteps Of His Parents
The famous drummer Hesse was born on January 26, 1974, in California, USA. Chris Hesse's parents were both active musicians during his childhood. They were very supportive and encouraged him early to follow in their footsteps.
Furthermore, when Chris Hesse was five years old, his dad and mom introduced him to his first piano lesson. Then, in his mid-teens, he switched to the guitar and drums, playing both instruments in local bands. He also took vocal and guitar lessons.
Later, the musician moved to Los Angeles in search of a larger music scene than the one in his hometown of Humbolt County, California, and accepted a newspaper ad to join Hoobastank. Moreover, he grew up in Humboldt County with his sister Angelica Hesse. She is involved in the art department as an art director and production manager.
Similarly, the sound engineer graduated from Arcata High School in 1992. After graduation, he opted to pursue a musical career.
Chris Hesse Net Worth And Career
Given the success of Hoobastank, Hesse has established a nearly 25-year career in music, initially as a touring musician and most recently as a studio engineer. He has worked with Hoobastank and at his own studio in Southern California, where he frequently mixes songs for domestic and foreign bands. So, looking at his successful career, Chris Hesse's net worth must be substantial.
Chris started his career as a drummer when he decided to pick up the drums in middle school. In 1994, Hesse became a founding member of Hoobastank after shifting from northern to southern California just a short time earlier and responding to a "drummer wanted" ad that Doug Robb and Dan Estrin had posted. Hoobastank has sold over 10 million records since their major-label debut in 2001, with their sophomore album The Reason from 2003 accounting for 2.3 million sales in the United States alone.
In addition, Chris' band's songs have received multiple nominations and three Grammy Awards nominations. The band must have also made a good earnings from events and tours. Additionally, they have an official YouTube channel from which they make between $39.1K and $626K annually.
Career As A Sound Engineer
The Hoobastank drummer also works as a sound engineer. Hesse built the studio, the Lighthouse Recording, started collecting gear, and preassumed a more significant role in the band productions. He opened the studio doors to the public in 2010 and started recording/mastering/mixing other bands such as Old Man Markley, The Coals, The Shell Corporation, and The Coals and Renee Myara.
An average year's salary for an American drummer is $31,200. As a result, Hesse's salary must be notable. In addition, he has been producing, mastering, and mixing for 20+ years while working with many signed international artists from which he must have amassed a significant amount of money.
Thus, such professional ventures must have improved Chris Hesse's net worth.
Also Read: Learn About Jocelyn Hefner 
Is Married To An American Actress
The skilled Hoobastank drummer shares a content marital life with his wife, Amy Allen. Chris Hesse has been married to his spouse since September 5, 2008. The couple met in 2004 at Casa Vega in Studio City. Deeply in love with one another, they have a strong relationship and have even been together for several years.
In addition, Chris Hesse's wife is an American actress and film crew member popularly known for portraying the Jedi Master Aayla Secura in Star Wars films.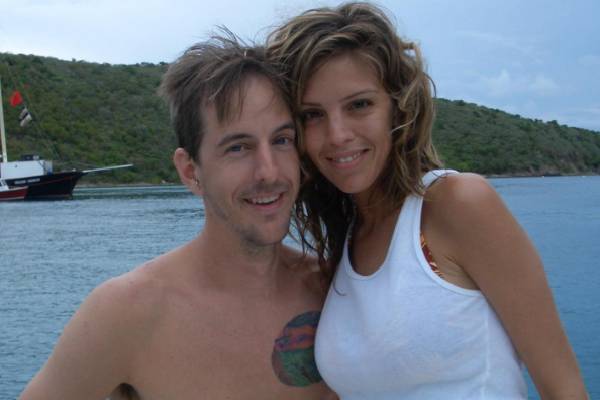 The musician is smitten with his spouse and frequently posts pictures of the family on social media. From the posts, it is evident that the match is happily living together.
Proud Father Of Two Kids
After being together for many years, the couple have welcomed two kids. Although the duo hasn't revealed the name of their children, they are great, loving parents. Hesse's wife, Amy, who just recently joined Instagram, frequently shares adorable photos with her kids traveling.
View this post on Instagram
Hesse is one of the successful drummers who has inspired many. Moreover, the accomplished musician is passionately and enthusiastically reviving his musical career. So let's all wish him more fame and success in the days to come.
Trivia And Facts
The albums with Chris Hesse's work have over 500 million hits on Spotify.
He has 4.2K followers on Instagram.