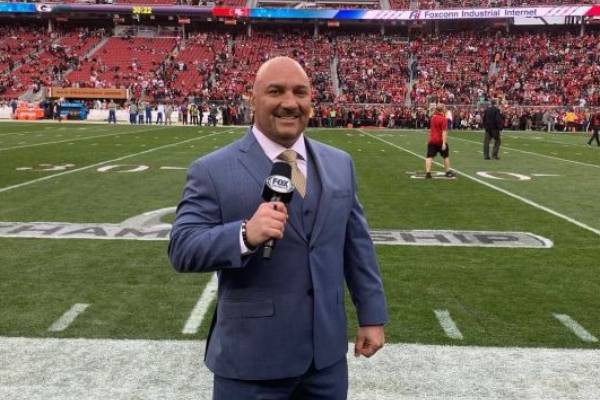 Last updated on March 26th, 2022 at 04:46 pm
Jay Glazer is a well-known sports reporter who reports exclusives, late-breaking updates, injury news, and several others reports for Fox Sports' NFL pregame studio show, FOX NFL Sunday. He has also made some appearances in films.
Despite being in the limelight, Jay prefers to keep his personal life away from the media. So, there have been many questions regarding him. Thus, in this biography, let's learn about Jay's parents, net worth, love life, and many more.
Jay's Parents Run A Farm
Jay Glazer was born Jason Charles Glazer on December 26, 1969, in New Jersey, USA. His parents are Edward A. Glazer and Irene Glazer, who run The Cold Moon Farm, which provides luxurious bed and breakfast accommodations and a kid-friendly working farm.
My dad couldn't do the Boca thing. Actually runs an amazing B&B near Stratton Mountain, Vermont w Mom check it out: http://t.co/vMy1izJOQB

— Jay Glazer (@JayGlazer) June 16, 2013
Jay Glazer's parents are the founder of the farm. His dad makes dinner reservations and guides the visitors in different activities. On the other hand, Jay's mom's work is to make delicious and hearty snacks and breakfast for the guests.
As for his education, Jay attended Pace University, and from there, he graduated with a degree in mass media.
ALSO READ: More About Journalist Willie Geist
Jay Glazer, Net Worth – $15 Million
The New Jersey native has been involved in the journalism field for many years and proved himself to be one of the prominent sports reporters. He has earned fame and fortune to his name. Jay Glazer's net worth of $15 million comprises his salary as a sports journalist and other ventures.
While attending university, Jay used to work as a stand-up comic and bartender and even did an internship at WFAN. Then, he began working as a columnist at the New York Post, and there he was paid $250 a week.
While working in The Post, he made a good name for himself in the sports writing community and even earned the respect of several players. Then, in 1999, CBS hired Glazer as an insider. There he worked until 2004 and joined Fox as the NFL Insider.
Furthermore, Jay also works as the senior writer for FoxSports.com. According to Glassdoor, a sports journalist at FOX Sports makes around $26,971 to $29,160 yearly. So, Jay must have earned significantly there. Similarly, some sites have reported that his annual salary is $5 million.
Another reporter who works for FOX is Shannon Bream.
Sports journalism is not the only job that Glazer is involved in. During the off-season, he trains NFL players in Mixed Martial Arts. Similarly, he and his business partner, Randy Couture owns Xtreme Couture Training Center.
Jay has also made an appearance in different movies like The Longest Yard, The Game Plan, etc. Moreover, he has also authored several books including Inside the Helmet: My Life as a Sunday Afternoon Warrior.
Because of the earnings from different ventures, Jay Glazer's net worth is reported as $15 million. Looking at his income sources, Jay's fortune seems reasonable. As a result, he must be enjoying a comfortable lifestyle.
Is Jay Glazer Married?
The FOX Sports reporter was previously married to Michelle Graci. The couple began dating in 2005, and a year later, on June 25, 2006, they walked down the aisle. Their wedding ceremony took place in a historic house in Manchester.
Jay Glazer's wife is a former model and currently works as a Real Estate Agent in LA. Sadly, the couple is no longer together. They have already separated, and the reason behind their divorce has not been revealed yet.
Furthermore, it is not known if Glazer is currently in a relationship.
Is A Proud Dad Of A Son
The sports journalist is a doting father of a son. Jay Glazer's son, Samuel Glazer, is his only child whom he adopted with his ex-wife. He adopted Samuel in the 2012 Father's Day. His son was born in 2003, and his birth parents have not been revealed yet.
View this post on Instagram
Jay and his former spouse share custody of their son. The ex-couple have not revealed many details regarding their child.
Nonetheless, Jay seems to be living a wonderful life with his son. Let's hope he has a successful future ahead.