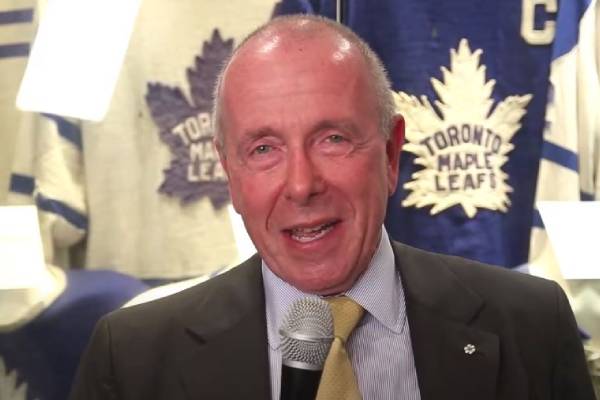 Birth Date

July 8, 1945

Birth Name

Lawrence M. Tanenbaum

Age

77

Height

5' 8"

Weight

130 lbs

Father's Name

Max Tanenbaum

Mother's Name

Anne Tanenbaum

Birth Place

Toronto, Ontario, Canada

Birth Sign

Cancer

Nationality

Canadian

Profession

Businessman

Partner

Judy Tanenbaum

Relationship Status

Married

Eye Color

Brown

Children

Julie Tanenbaum, Kenneth Tanenbaum, Lisa Tanenbaum

Education

Bachelor of Science degree in economics

Awards Honors

Officer of the Order of Canada
Larry Tanenbaum is a Canadian businessman who came into the limelight as the chairman of Maple Leaf Sports & Entertainment. Furthermore, he was able to own a 25% stake in it through his holding company Kilmer Sports Inc. As a result, he has gained significant fame and fortune in the business world.
The Canadian business tycoon has not revealed much about himself despite being in the limelight. So, without further ado, let's take a look at Larry Tanenbaum's biography, including the facts about his early life, marriage, career, and many more.
Comes From A Jewish Family
On July 8, 1945, Lawrence M. Tanenbaum was born into a Jewish family. As per Ontario Jewish Archives, Larry Tanenbaum's parents, Max Tanenbaum and Anne Tanenbaum, were notable philanthropists in Toronto. Furthermore, the Tanenbaum couple was known for supporting the Jewish community in education and medicine. Larry grew up in Toronto, Ontario with his six siblings, Joey Tanenbaum, Howard Tanenbaum, Tauba Tanenbaum, Minda Tanenbaum, Carol Tanenbaum, and the late Harold Tanenbaum.
Larry Tanenbaum's grandfather, Abraham Tanenbaum, migrated to New York from Parczew, Poland, in 1911. Later, he moved to Toronto and, by 1914, had saved enough to bring his spouse, Chippa Surra, and sons, Joseph Tanenbaum and Max Tanenbaum, to Canada. Moreover, Larry's grandpa founded the Runnymede Iron and Steel Company, which later became a major steel fabrication firm and real estate empire. Likewise, Larry's dad had also founded his own company, York Steel.
The business tycoon attended Cornell University. He graduated in 1968 with a Bachelor of Science degree in economics.
Also Read: Learn In Detail About Anjali World
Larry Tanenbaum Net Worth And Career
Larry comes from a business family as his grandfather and dad were involved in a steel company. So, him being interested in business from a very young age is not a big deal. Thus, when we look at the business ventures that Tannebaum has been involved in, we can assume that Larry Tannenbaum's net worth is a notable amount.
The businessperson currently serves as the CEO and Chairman of Kilmer Van Nostrand Co. Limited (KVN), the Kilmer Group's principal holding company. Apart from this, he has been involved in several business ventures. From 1968 to 2000, he worked as the CEO and President of KVN. He also served as chairman of Warren. Furthermore, Tanenbaum also was on the Executive Committee and the Board of Directors of CUC Broadcasting Limited. He was a significant shareholder of the cable company.
The Toronto native has been interested in sports and entertainment for a long time. In 1991, he led the effort to bring an NBA franchise to Toronto. Moreover, he also serves on the Executive Committee and Governor of the NBA (Toronto Raptors), NHL (Toronto Maple Leafs), and Major League Soccer (Toronto FC). He also co-owns Toronto Argonauts, a football club in the Canadian Football League. He has also been involved in numerous community associations. In April 2022, he joined Stephen Pagliuca's bid to buy Chelsea Football Club.
Moreover, Larry is co-chairman of Tanbridge Partners LP, which owns Coca-Cola Canada Bottling Limited. He is also chairman of Kilmer Capital, which has invested in several other businesses and organizations.
Hence, all these business ventures must be paying Larry massively. A CEO makes around $793,901 as an annual average salary. Hence, Tanenbaum must have earned significantly from his multiple business endeavors. Therefore, we can assume that Larry Tanenbaum's net worth must be a notable amount.
Although the exact amount hasn't been revealed, Canadian Business estimated Larry's fortune to be worth $1.5 billion, in 2015. It must have increased at present.
Vivek Ranadivé is another businessman who was also involved in the bidding to buy Chelsea.
Married For A Long Time
The Canadian business mogul enjoys not only a successful professional life but also a long and thriving marriage. He is blissfully married to his spouse Judy Tanenbaum. The couple tied the knot in 1967 and have been together ever since. However, their first encounter and dating timeline have remained secret.
Larry Tanenbaum's wife is extremely supportive of his career. The married pair have been involved in charity and philanthropic activities together. They must be living a content life with each other.
Proud Father Of Three Children
In over four decades of togetherness, Larry and Judy have welcomed three kids who have already grown up. Larry Tanenbaum's daughters, Julie Tanenbaum and Lisa Tanenbaum have co-authored several cookbooks. Whereas, his son, Kenneth Tanenbaum, is the chairman of Kilmer Developments. In addition, the three of them are already married and have children of their own.
View this post on Instagram
Larry must be living a wonderful life with his wife, kids, and grandchildren. As his business flourishes in the coming days, his net worth is likely to increase as well. We wish the Canadian native sound health and blissful life in the future.
Trivia And Facts
In 2007, Larry was appointed an Officer of the Order of Canada.
University of Toronto's St. Michael's College awarded him an honorary Doctor of Laws degree.
Tanenbaum owns a 14,833 sq. feet house in Forest Hill, Toronto.