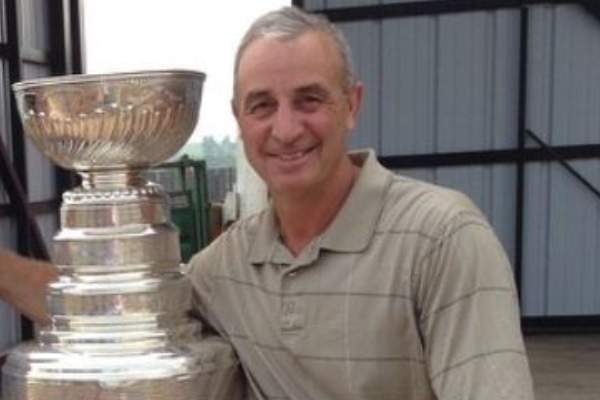 Birth Date

March 16, 1960

Birth Name

Duane Calvin Sutter

Age

63

Also Known As

Dog

Height

6' 1"

Weight

190 lbs

Father's Name

Louis John Sutter

Mother's Name

Grace Sutter

Birth Place

Viking, Alberta, Canada

Birth Sign

Pisces

Nationality

Canadian

Profession

Coaching Director

Partner

Cindy Sutter

Relationship Status

Married

Hair Color

Grey

Children

Brody Sutter, Darby Sutter, Kassie Sutter
Any ice hockey enthusiast might be familiar with the Sutter family. One of the renowned families in the NHL history, they are originally from Viking, Alberta. Duane Sutter is the third child of the family. He currently serves as the Director of Coaching at Újpesti Jégkorong Akadémia U18.
As an ice hockey personality, Duane has experience in playing, coaching, and scouting. Now in this article, let's take a glance at his professional career timeline.
Hails From A Renowned Hockey Family
The director was born Duane Calvin Sutter on March 16, 1960. He is the third child of Grace Sutter and Louis John Sutter. Sutter grew up in Viking, Alberta, with his brothers, Brian Sutter, Darryl Sutter, Brent Sutter, Ron Sutter, Gary Sutter, and Rich Sutter. The Sutter family's patriarch and matriarch tied the knot in the early 1950s and settled in Viking, and went on to raise a family of nine.
While Gary stayed at home, Duane, along with his other brothers, made it to NHL and even became coaches. However, Rich did not take the coaching job. Unfortunately, Duane Sutter's dad died at the age of 73 due to a long illness. On the other hand, his mother battled breast cancer.
Duane Sutter's brother, Darryl, had received scholarships from Ivy League schools but opted to pursue an ice hockey playing career instead. Is it possible Duane also did not attend any college like his sibling?
Duane Sutter Net Worth And Career
Coming from a family of hockey enthusiasts, Duane must have been involved in the sport from a very young age. From being a player to a coach to a scout, and now a director of coaching, he has come a long way. In all these years of his professional career, Sutter must have made considerable earnings. Therefore, Duane Sutter's net worth must be a substantial amount.
Duane started playing hockey as a kid with his siblings and then on several junior league teams throughout the 1970s. In the 1979 NHL Entry Draft, the New York Islanders selected him in the first round (17th overall). The following season, Sutter made his NHL debut and, as a rookie made a significant contribution to the team's first Stanley Cup Championship. After that, he played for the Chicago Blackhawks and eventually retired in the 1989-90 season.
Then, the Viking native started his coaching career and went on to coach Medicine Hat Tigers, Indianapolis Ice, and Florida Panthers. Before starting as a coach, he had worked as a scout for the Blackhawks from 1990 to 1992. In 2003, Sutter was named the director of player development at Panthers and worked there until 2007. Then, he joined Calgary Flames and served until 2010 before moving to the Edmonton Oilers.
After that, Sutter served as VP of Hockey Operations at Oilers and scout at Pittsburgh Penguins before accepting the current job position in 2021. While Duane Sutter's salary has not been revealed, as per Glassdoor, an average wage of a director of coaching is $51,426 per year. Therefore, Duane must have made significant earnings.
Thus, Duane Sutter's net worth must be a considerable amount. On the other hand, his elder brother, Darryl Sutter's fortune is estimated to be worth $10 million.
Also Read: Learn More About Vancouver Canucks Head Coach Bruce Boudreau
A Blissful Marriage With Three Children
Despite being in the limelight, the NHL coach has kept his personal life away from the media. As a result, his love life is a mystery for many. The Alberta native is happily married to Cindy Sutter. However, the couple has not revealed when they tied the knot. But, it must have been a lovely journey.
The former player has welcomed three children with his spouse in all these years of being happily married. Duane Sutter's wife gave birth to their two daughters, Darby Sutter and Kassie Sutter, and a son, Brody Sutter. His babyboy has followed in his footsteps and currently plays for the Vienna Capitals.
View this post on Instagram
Moreover, Duane Sutter's children have already been married and have their own families. He and his wife must be loving grandparents to their grandkids. Nonetheless, the Canadian former ice hockey player must be living a wonderful life with his family. As he has ventured into the new career path, we hope he finds significant success and continues earning more.
Trivia And Facts
Duane does not seem very active on social media.
When Bill Torrey called Duane to inform him about his draft, he thought he was being pranked and hung up on Torrey.