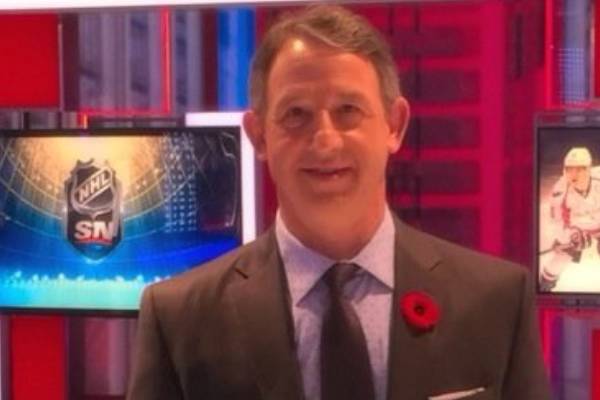 Birth Date

December 2, 1963

Birth Name

Richard G. Sutter

Age

60

Also Known As

Rich Sutter

Height

5' 11"

Weight

188 lbs

Father's Name

Louis John Sutter

Mother's Name

Grace Sutter

Birth Place

Viking, Alberta, Canada

Birth Sign

Sagittarius

Nationality

Canadian

Profession

NHL Scout

Partner

Rhonda Sutter

Relationship Status

Married

Hair Color

Grey

Children

2
Rich Sutter is one of the renowned names in ice hockey history. He belongs to the famous hockey family, the Sutter Family. Rich is a former player who played as a right-winger for several teams in the NHL. He currently works as a hockey analyst.
The sportsman has gained significant fame in his career. But, he still has left several of his details covered. So, let's learn more about him in this biography.
The Viking Native Sports Personality
Richard G. Sutter was born on December 2, 1963. Richard Sutter's parents, Louis John Sutter and Grace Sutter, got married in the early 1950s. Then, the couple settled near Viking, Alberta, where they had a farm and raised the renowned Sutter family of nine members.
Tragedy struck the Sutter family when Rich Sutter's father, Louis, died on February 10, 2005, due to a long illness. He was only 73 at the time of his demise. Moreover, Rich's mom is a breast cancer survivor. She is all fine and living a wonderful life now.
Rich is the youngest of the family, along with his twin brother Ron Sutter. His elder siblings are Brent Sutter, Duane Sutter, Darryl Sutter, Brian Sutter, and Gary Sutter. Among the Sutter brothers, Gary did not play hockey. Also, among those siblings involved in ice hockey, Rich is the only one who has never coached.
Rich attended Winston Churchill High School in Lethbridge, Alberta. However, he has yet to reveal which university he attended.
Rich Sutter Net Worth And Career
The former ice hockey athlete started playing ice hockey at a young age with his brothers. Then, he went on to play in several junior championships and eventually in NHL. In all these years, he must have made considerable earnings. Therefore Rich Sutter's net worth must have been a substantial amount.
The Winston Churchill alumnus played on the same junior hockey teams with his twin sibling, Ron. Then, in the 1982 NHL Entry Draft, he was drafted 10th overall by the Pittsburgh Penguins. On the other hand, his twin was drafted 4th overall by the Philadelphia Flyers at the same draft. Rich played nine games with the Penguins before being traded to the Vancouver Cancuks.
After that, he played for several other teams, including St. Louis Blues, Chicago Blackhawks, Toronto Maple Leafs, and Tampa Bay Lightning. In his playing career, the Viking native mainly earned from his hockey wage. Therefore, take a look at Rich Sutter's salary during his playing days.
| | | | |
| --- | --- | --- | --- |
| Season | Team | Salary | In Today's US $ |
| 1989-90 | Vancouver Canucks "A" | $210,000 | $457,877 |
| 1990-91 | St. Louis Blues | $225,000 | $465,464 |
| 1991-92 | St. Louis Blues | $325,000 | $645,036 |
| 1992-93 | St. Louis Blues | $310,000 | $597,156 |
| 1993-94 | Chicago Blackhawks | $350,000 | $654,887 |
Table Souce: HockeyZonePlus
In 1995, Sutter retired from his playing career. Two years later, he began serving as a scout of Team Canada. After that, the former sportsman worked as a scout for different teams such as Minnesota Wild, Phoenix Coyotes, and Columbus Blue Jackets. He also has experience working as an assistant general manager of Lethbridge Hurricanes and assistant coach at the University of Lethbridge.
Currently serving as the scout for Blue Jackets, Rich must have earned significantly. The average salary of a hockey scout is $38,839 annually. Hence, he must have earned considerably. So, looking at his earnings, Rich Sutter's net worth can be assumed to be a notable amount. On the other hand, his brother, Darryl, has riches worth $10 million.
Also Read: Know More About Montreal Canadiens Head Coach Martin St. Louis
Is Happily Married With Two Kids
Unlike his other brothers, Rich has remained pretty low-key regarding his personal life. Rich Sutter's wife is Rhonda Sutter, with whom he must have been married for several years now. As the couple prefers to keep their marriage away from public scrutiny, not many details have been revealed.
Furthermore, the NHL scout has welcomed two children with his spouse. Rich Sutter's daughter is his eldest, and after her, his son, Lukas Sutter, aka Luke Sutter, was born. Keeping up the Sutter family legacy, Lukas also plays hockey. He is now a scout of the Buffalo Sabres.
All in all, one of the youngest Sutter brothers must be living a contentful life. As a scout, his earnings must have benefited him well, and he must be enjoying a comfortable lifestyle. Let's hope Rich comes at ease to share more details about his personal life in the media.
Trivia And Facts
Rich is active on Twitter and tweets sometimes.
Since 2014, he has been appearing on Hockey Central's lunch program Hockey Central at Noon.
Sutter is a hockey analyst for Rogers Sportsnet.