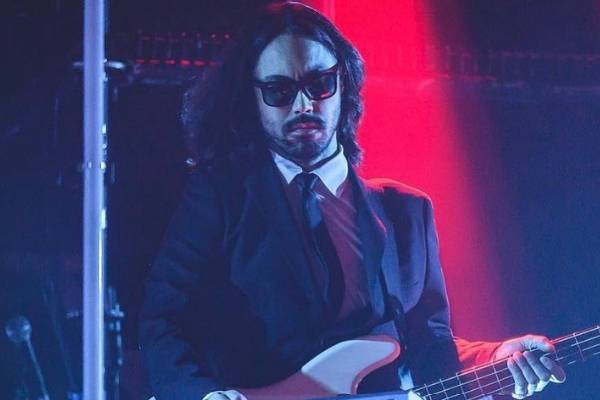 Birth Name

Josh Moreau

Father's Name

Dan Moreau

Profession

Bass Player, Musician

Relationship Status

Not Confirmed

Eye Color

Dark Brown

Hair Color

Black

Instagram

https://www.instagram.com/joshkmoreau/
While bassists are often overlooked and underappreciated in a band, to outshine and come across as a great musician is challenging. Nevertheless, Josh Moreau is a great bass player who has made a name for himself by working with renowned bands and artists like Miley Cyrus, Awolnation, Lana Del Rey, and Katy Perry.
In addition, he was also a former member of the famous rock band Hoobastank. As many fans are curious to know more about the skilled bassist, we have covered you as this article highlights his personal life and professional career.
Has A Great Bond With His Parents
As per FrWikipedia.org, the prolific musician was born in 1981. Josh's dad, Dan Moreau, is a musician, poet, and electrician and his mom's name is Josephine Marquez. Unfortunately, Josh Moreau's parents are no longer together and his father is currently married to Astrid Bernier Moreau.
Also, Josh shares a very tight-knit bond with his dad and calls him the best father ever. Likewise, the bond with his mother is also impeccable. Similarly, Moreau also grew up with his younger sister, Noelle Escovedo. His sibling always motivated him to pursue music.
Speaking of Josh's educational background, he went to Camarillo High. Furthermore, as per his Facebook, he attended William Howard Taft Charter High School and Simi Valley High.
Also Read: Learn More About Danny Lauby Jr.'s Biography
Josh Moreau Net Worth And Career
The proficient and accomplished bassist has been in the music industry for many years and has left a positive impact. From working with very successful bands to working with brilliant artists, he has been able to amass a significant fortune. Therefore, Josh Moreau's net worth must be of a considerable sum.
Moreau's first professional gig came in 1999 when Paul Shaffer requested him to join the Nickelodeon House Band. Soon after, Sheila-E engaged him to perform with Juanes and Nelly Furtado.
The bassist has performed at the Rock and Roll Hall of Fame as a guest with Tony Royster Jr. for several clinics. By the time he was 24 years old, Moreau had already collaborated with Rob Hoffman, Kevin Max, and Something Like Silas. Since then, he hasn't stopped touring.
Then, Moreau joined Hoobastank as a bassist in 2005 and later left the band in 2008. While with the band, he performed with vocalist Doug Robb, guitarist Dan Estrin, and drummer Chris Hesse. Some of Hoobastanks's songs during Josh's reign include, Inside of You, If I Were You, The First of Me, Without a Fight, Born to lead, and Good Enough, to name a few.
Furthermore, during his professional career, Josh also joined the American rock band, Awolnation in 2020 and is also currently working as a bassist. Some of the songs the band has released under his tenure include Slam (Angel Miners), Angel Miners & The Lightning Riders, Material Girl, and Maniac, to name a few. Not just that, he was also the former member of the band Under the Influence of Giants.
In addition, he has also done tours with celebrated artists such as Katy Perry, Miley Cyrus, and Billy Ray Cyrus, to name some.
View this post on Instagram
A person working as a bass player in the United States typically earns $44,291 on average. As a result, Moreau's salary must be substantial. In addition, his band has also performed in various tours and events, which helped him compensate a significant royalty fee. Similarly, he has also performed in numerous tours and events, which has helped improve Josh Moreau's net worth.
Is A Man Of Secrecy
Josh has kept his relationships wholly hidden from the public's view. As a result, no details about Josh Moreau's wife or marriage have been made public.
Apart from this, he doesn't seem to have been associated with any other person in the past or the present. Also, through his Instagram, the musician posts more about his band and work friends and seems to be a workaholic. Given his intense enthusiasm for music, is it possible that he is now entirely focused on his field of work?
Nevertheless, Moreau must be happy with his decision to keep his personal life away from the paparazzi. It could be that he is living a happy life with his family. Likewise, Josh has also not been open about kids; therefore, it is a mystery if he has children or not.
To sum up, we hope Josh is living a comfortable life with his close ones and friends. In addition, we wish the Moreau family more happiness ahead.
Trivia And Facts
Josh has 5K followers on his Instagram account.
He currently resides in Ojai, California.